Appetizers
Apalachicola Bay Oysters
Raw oysters – Half dozen 8, Full dozen 14
Oyster Mini Trio – Three raw oysters topped with a shallot mignonette, candied habanero, lemon & caviar 6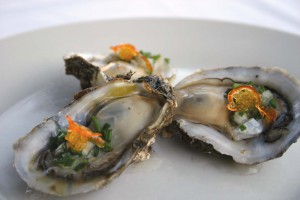 Oyster Rockefeller – Steamed with collard greens, garlic, butter, bread crumbs, asiago cheese & bacon. Half dozen 10, Full dozen 16
Southern Fried Oysters  Lightly fried with spicy mayo & topped with a fresh kale slaw 9           
Nigiri Sushi Four pieces of fresh #1 grade gulf tuna served raw over sticky rice, teriyaki glaze, cucumber salad, jalapeno & caviar 10
Shrimp Cocktail Five Gulf shrimp, cocktail sauce & lemon 8
Local Fresh Clams
Local clams steamed in a white wine, orange & saffron butter. Served with dipping bread 12
Mushroom Pâté
Mushroom, pecan & brandy pâté on a crostini with goat cheese, shallots, truffle oil & chives 8
Braised Pork Belly
Bourbon barbeque glaze, topped with a granny smith apple & currant slaw, finished with crispy fried shallots 14
Yellow Tomato Bruschetta
Fresh basil, balsamic & mozzarella, served with toasted crostinis 9
Soups & Salads
Soup of the Day 7
Oyster Bisque
Bay oysters cooked in a light yellow tomato cream broth, with mushrooms & truffle oil 9
House Side Salad Spring mix, carrots, cucumbers & sunflower seeds.
House made dressings served on the side: Balsamic vinaigrette, ghost pepper vinaigrette, buttermilk ranch, creamy tupelo honey lime ginger or bleu cheese 5
Caesar Salad
Crisp romaine, asiago cheese, house made Caesar dressing, wheatons & anchovy 8
Roasted Beets & Brussels
Balsamic vinaigrette, mixed greens, goat cheese & wheatons 10
Cucumber Salad
Cucumbers & fresh berries tossed in creamy tupelo honey lime ginger dressing over seasonal lettuces 6
Entrees
All entrees served with a side house salad & bread. Substitute a Caesar for 3.

Grouper Orecchiette
Fresh local grouper, pan seared & served over orecchiette pasta in a light lemon cream sauce w/ tomatoes, mushrooms, garlic & shallots 25
Tuna
Fresh Gulf tuna seared rare & sliced over wasabi potato puree, sautéed kale, purple cabbage, carrots, shallots & garlic with a spiced dark cherry, honey reduction, fresh ginger froth & caviar 28
Guest Platter
Your choice of the local fresh catch of the day, Gulf shrimp or Bay oyster platter, prepared fried, grilled or blackened, served with your choice of two sides. One or Two 26. Combination of all three 30
Southern Stuffed Chicken
Pan seared bacon wrapped chicken breast, stuffed with collard greens & asiago cheese, served with house made ricotta stuffed ravioli, steamed collard greens & carrots. Finished with a chardonnay cream sauce & asiago cheese 23
Irresistible Ribs
Slow braised fall off the bone barbeque pork ribs with twice baked potato & fresh steamed collard greens 21
Center-cut Black Angus Filet Mignon
Tender beef filet served rare, then topped with a sautéed shallot & mushroom ragout, warmed brie cheese & a red wine reduction. Served with a twice baked potato & sautéed garlic green beans 32
Chargrilled 12oz Buckhead Beef Rib Eye
Cooked to your liking, topped with a caramelized shallot butter, served with roasted garlic mashed potatoes & sautéed asparagus 30. Add grilled shrimp skewer 38
Vegetarian (Gluten-Free)
Brussel sprouts, carrots, purple cabbage, asparagus, mushrooms, shallots & gluten-free soy glaze over steamed wild rice 15. Add sautéed shrimp 24
Side Items: Sautéed garlic green beans, sautéed asparagus, Brussel sprout & carrot medley, steamed collard greens, twice baked potato, roasted garlic mashed potatoes or steamed wild rice. Additional side 4
Desserts
Chef Brett's Key lime pie topped with whipped cream 7
White chocolate Crème Brulee with fresh berries and whipped cream 7
Chocolate chip mint Ice cream with a chocolate chip cookie 8
Flourless chocolate cake served over a creamy chocolate sauce, with fresh fruit & whipped cream 8
Pub Menu
Bay Oysters
1/2 dozen 8
1 dozen 14
Steamed Oysters on the Half Shell Topped with butter & a fresh herb/cheese blend                       1/2 Dozen 10 Full Dozen 16
Chicken Pub
Grilled Chicken BLT on wheat bread. Served with fries or pasta salad 8
Sliders Served with French fries or pasta salad
White American cheese, yellow tomato, pickles & a creamy dijonaise. Your choice of: Ground beef 12 Gulf Shrimp 16 Fried Oysters 16
Pub Clams
Alligator Point clams with white wine, orange, saffron butter and dipping bread 14
The Caesar Your choice of chicken or gulf shrimp lightly blackened over crisp romaine with asiago cheese, wheatons & anchovy tossed in house made Caesar dressing 16
Shrimp Cocktail
Five fresh gulf shrimp w/house made cocktail sauce and lemon 8
Oyster Bisque
Bay oysters lightly cooked in a rich yellow tomato cream sauce with sauteed oyster mushrooms and truffle oil 9
Mushroom Pate
Mushroom, walnut & brandy pate on a crostini w/goat cheese, truffle oil, and fresh chives 8
Assorted Cheese Board
Five featured cheeses with accompaniments & crackers 15 per person
Fried Oysters
Lightly battered in cornmeal, served over a spicy mayo, then topped with fresh kale slaw 10
Tuna Tartare Sushi grade fresh gulf tuna topped with a fried egg & caviar. Served with corn tortilla chips 16
Crab Cakes Two lightly breaded & pan seared bay crab cakes over house tartar sauce. Topped with a cucumber relish 12
Kids Menu – For our special guests 12 and under
Chicken Fingers 7                                                                                                                           Grilled Cheese 6
Fresh Catch of the Day served fried or grilled 10
Kids Fresh Gulf Shrimp served fried or grilled 9
Cheese burger slider plain with white American cheese 8                                                               Petite Filet Mignon 18
Kids items are served with a choice of green beans, asparagus, oven mashed potatoes, fries or wild rice
Notice: There is a risk with consuming raw oysters and raw meats. If you have a chronic illness of the liver, stomach or blood or have an immune disorder you are at risk of serious illness from raw oysters and meat and should eat oysters and meat fully cooked. If you are unsure of your risk contact a physician. Gratuity of 18% may be added to parties of six or more. Prices subject to change without notice. Please call 850-653-1040 for reservations or to confirm menu details.